Building a 5 inch gauge Pollymodels "Caroline"
About me
Contact me
Who is Caroline?
Links
Gallery
Last Update: January 2014
Building Caroline
kit contents & page index
First steam
** The engine is complete **
Painting the Engine
Final assembly
Conclusion
** Final assembly and Conclusion **
**News Update
January 2014

**

Regrettably, due to my deteriorating health, I had to sell Caroline in October 2013. It has gone to a good home with a member of the North Norfolk MES at Holt, Norfolk where I understand it is doing good service pulling passengers on their raised track.

I'm still happy to hear from anyone interested in building this loco or its larger sister the Suzanne. Hopefully this website will remain for as long as I'm around - however long that may be!!

After that I'm hopeful that maybe the Polly Owners Group might host it as it seems a shame if it just goes to waste. Watch this space as they say!
What's this all about?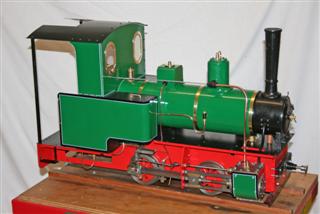 This is the story of my attempt at building a 5 inch gauge Pollymodel Engineering coal fired steam engine kit called "Caroline".
It is a fifth scale model of an Orenstein and Koppel 0-4-0 well tank engine.

The kit was in 10 installments and I began it in November 2008 and finished it in January 2010.

This a picture of the finished engine,
there are further pictures in
Final assembly
and there will be others in my
Gallery
in due course
(click on image to enlarge)
It has been a very rewarding project and proves that these kits can be built without any prior experience.
If you're interested, then read on!
I would also like to hear from other Caroline builders or prospective builders